---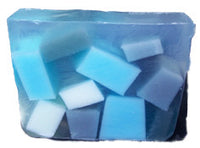 Winter Rain & Ice™
$6.50

Our Winter Rain and Ice smells as cool as the rain on a late winter morning, just before spring, stirred with a little Minnesota air. A unisex soap made with tranquil blue hues...enough to stir your memories of what was behind and guide you to what or who is waiting ahead... 
Product photo displays our 4-5 oz bar sizes, other sizes not pictured. Soap purchased in 3 LBS or 5 LBS are delivered uncut. It's up to you cut the loaf of soap into bar sizes you want. 
Captions are descriptions of our products and photos are our actual products, though each batch will vary slightly in color, shapes, cuts. ©2016 Soapourri™ ALL RIGHTS RESERVED.