---
Soapourri™ Soap Company
Posted by Lisa Christenson on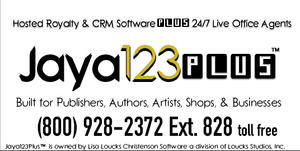 JAYA123PLUS Book Publisher, Indie Artist, Business Royalty Software with Virtual Assistants
by Lisa Loucks-Christenson Jun 19, 2023 0 comments
JAYA123PLUS.com 
    Current Clients Login:  Jaya123Plus Clients 

                                         (800) 928-2372 Ext. 828 toll free
           Live outside the USA? Email: Lisa@LisaLC.com
JAYA123PLUS.com™
JAYA123PLUS connects you to our virtual assistants that will answer your calls, take orders, fulfill the orders by sending you the order sheets or fulfill the orders in-house, for a set fee. Since 1987 our office has served clients worldwide. Clients that are interested in adding our JAYA123PLUS.com services are offered a full office package. Let our team handle your call answering, web operators, dispatching, fulfillment, in-store stocking, invoicing, royalties.
Who Are Our Clients? Customers that need: 

Other services we offer (partial list):
* 24/7 toll free lines for messaging, dispatching, ordering
* Assigned virtual assistant services (Message handling, email, posting on social media, calls, and more).
* Custom ebook and book creation 
* Book illustrations
* Photo shoots with models, animals, product, location, executive portraits
* Private stock photos library (Images are not available anywhere else) 
* Ghostwriting
* Book editing
* Book layout, design, formatting
* Bookstore placement in our network
* Website and ordering pages
* Managed author websites 
* Managed e-commerce bookstore 
* Interviews for authors
* Author Signings 
© 2018-2023 Lisa Loucks-Christenson Software Division™
---
Posted by Lisa Christenson on

Soapourri's New toll free number: (888) 320-2671  
---
Posted by Soapourri Soap Company on

Soapourri™ is our trademark name for our glycerin soaps line. Soapourri™ is still making soaps for our clients for about two decades. We offer over 100 scent of soaps to our retail clients (exclusive soap design and fragrances to our wholesale clients). 
Don't be fooled by imposter "Soapourri Soap" brands, if it isn't our name and logo . . . it is NOT our soap.