---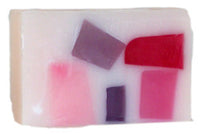 Pink Dreams Soap
$6.50
A fancy blend of sexy musk and blackberry wine with a delightful top note of succulent berries blend with accents of purple pansies and wild grapes. The heart of the mix combines jasmine, lilac, rose and spicy pink carnations. Pink Dreams ends on a warm note of sultry vanilla, musk and white woods.
Top 10 Selling Soaps! 
Product photo displays our 4-5 oz bar sizes, other sizes not pictured. Soap purchased in 3 LBS or 5 LBS are delivered uncut. It's up to you cut the loaf of soap into bar sizes you want. 
Captions are descriptions of our products and photos are our actual products, though each batch will vary slightly in color, shapes, cuts. ©2016 Soapourri™ ALL RIGHTS RESERVED